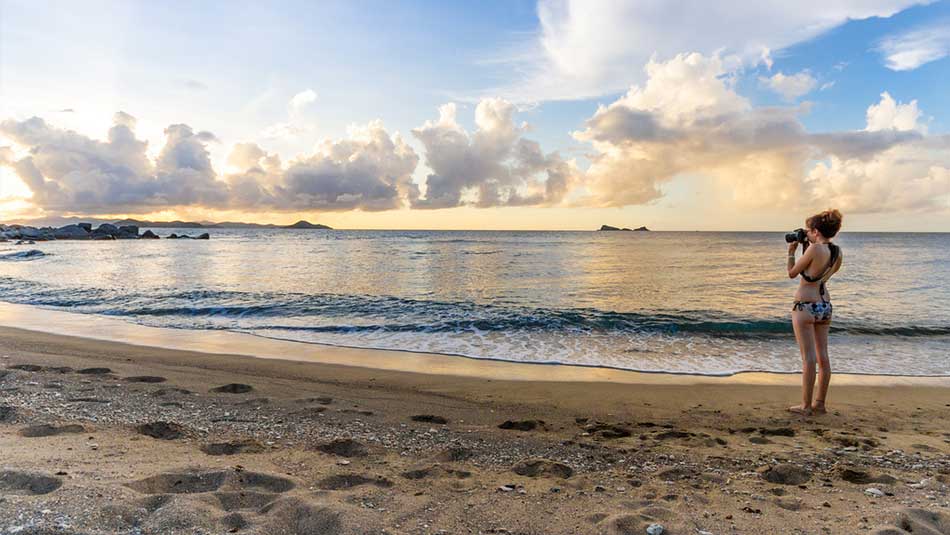 Beaches
All beaches in the BVI are public to the high-water mark. This includes the beaches at private islands such as Guana, Mosquito and Necker. Highlighted here are some of the more popular beaches in the BVI; part of the pleasure derived from enjoying the less accessible beaches comes from discovering them yourself. At this time, the only beach currently patrolled by lifeguards is Josiah's Bay on Tortola. All beaches observe a 'no smoking' policy.
What the flags mean:
Red & Yellow Flag: lifeguard on duty, safe to swim
Black & White Flag: safe for craft only
Solid Red Flag: danger, never swim
Yellow Flag: swim with caution
Purple Flag: marine life warning (jellyfish, etc.)
Tortola
North
Cane Garden Bay: Surf, Swimming, Food, Drink, Chairs, Dog-Friendly, Socialising, Watersports, Bathrooms
Cane is more than just a beach – it's a beachside town. One of the most popular locales in the BVI, CGB has the most bars and restaurants of any beach on Tortola. Lunch is mostly standard fare, but dinner specials, including beach barbecues, are worth sticking around for after a long day sunbathing on the shore. On cruise ship days, the beach can be packed with tourists. On days without ships, it's a great place to bring the family. For watersports enthusiasts, Cane is one of the only places in the BVI where you can rent Personal Water Crafts (also known as jet-skis). The watersports centre also offers sea kayaks, paddleboats, windsurfing, and a large sea trampoline. Also notable in Cane Garden Bay is the historic Callwood Rum Distillery.
Brewers Bay: Snorkelling, Swimming, Drink, Camping, Dog-Friendly, Diving
Lambert: Snorkelling, Swimming, Chairs, Dog-Friendly
South
Nanny Cay: Food, Drink, Chairs, Dog-Friendly (on leashes), Snorkelling, Swimming, Bathrooms
Brandywine Bay: Swimming, Snorkelling, Dog-Friendly
East
Josiah's Bay: Surf, Food, Drink, Socialising, Watersports, Bathrooms, Privacy
Residents love Josiah's on a Sunday afternoon, especially if there's surf. Grab a bite to eat at the Tamarind Club's popular Sunday Brunch before you head down to the beach. Naomi's and the Josiah's Bay Beach Bar have drinks that are reasonably priced and always cold. The Beach Bar also has a pool table, if the waves flatten out. Most visitors to Josiah's only utilise the first half of the beach, so if you're looking for privacy, venture down a little further, and the beach is yours. When the swell is in, swimming at Josiah's is rough going—most of the shore is covered in rocks and coral.
Long Bay, Beef Island: Snorkelling, Swimming, Food, Drink, Dog-Friendly, Kitesurf, Windsurf
Trellis Bay, Beef Island: Watersports, Food, Drink, Dog Friendly, Socialising
West
Smugglers Cove: Dog Friendly (Before 8am and after 5pm), Chairs, Socialising, Snorkelling, Swimming, Surf
This is an ideal locale for a beach party. Smugglers beach has the best of both worlds—smooth sand in the centre with teeming reefs on either side of the swimming area. It's also, deservedly, one of the most photographed spots in the BVI.
Apple Bay: Surf, Food, Drink, Swimming
A narrow but long beach, Apple is known for its fairly consistent surf and Bomba's Surf Shack, a hangout for residents and tourists that is famous for its mushroom tea and raucous monthly Full Moon parties.
Long Bay West: Food, Drink, Chairs, Bathrooms
At over a mile long, this is one of the best places to walk the beach in the BVI and the view is astounding – then again, it is in most spots here…
Virgin Gorda
The Baths and Devil's Bay National Park: Food, Drink, Snorkelling, Swimming, Bathrooms
The Baths, the Caves and Devil's Bay are famous for their colossal granite boulders. You won't believe it until you see their amazing size. Most people stick to the trails and sort of rush through the Caves, but it's fun to explore off the path—both towards the sea and away from it where you will discover places to climb, swim through and an absurdly large amphitheatre-like area formed of building-sized boulders. The beach at the Baths can be crowded, especially if there are cruise ships in, so sometimes it's best to go through the Caves to Devil's Bay. Both beaches have fantastic snorkelling right off the shore, but beware of dinghies.
Jost Van Dyke
White Bay: Food, Drink, Swimming, Bathrooms, Socialising, Snorkelling…the lot! This is a global hotspot.
On White Bay, you'll find some of the best beach bars in the BVI, if not the world. If your friends aren't relaxing at Josiah's or Smugglers on a Sunday afternoon, it's likely they have sailed to White Bay. Famous favourites are The Original Painkiller at Soggy Dollar Bar, a Bushwacker at One Love's, burgers at Gertrude's or hot dogs at Jewel's Snack Shack.
Anegada:
Food, Drink, Swimming, Bathrooms, Socialising, Snorkelling, Scuba Diving, Abundance of Colourful Sea Life, Sport Fishing, Bone Fishing, All-Star Watersports Paradise, Unspoiled Beauty
Anegada is known as the 'sunken/drowned island' – it measures 11 miles by three and its highest point is just 28ft above sea level. There are few waterfront developments which make for open beaches, and you can circumnavigate the island without too much interruption via the beach. Beaches include
Cow Wreck Beach, Flash of Beauty, Bones Bight and Windlass Bight.
There are numerous ferries and flights—Fly BVI being a top choice—heading to Anegada from Tortola and Virgin Gorda.
West Point is exposed to waves, but the remainder of the island is protected by barrier reefs. You may walk for hours without seeing a soul, but you will also not come across too many rest stops either—bars and restaurants are far apart from each other and tend to serve different areas of the island. Therefore, Anegada offers little shade, but makes up for it in idyllic settings. Due to its remote location, Anegada is seldom crowded and does not attract the fast-paced crowd on any level. Most people will bring their watersports toys with them if they feel the need, but a snorkel is a must. Most beachgoers flock to the snorkelling heads off Loblolly.
Indulging in the local cuisine of lobster is also an obligation in visiting Anegada. It's reputed to be the Caribbean's best.
Top 10 Beach Baby Tips:
Baby powder removes sand easily and quickly. It is unbelievably effective, and I am sad to say I only discovered it when my child was three.
Watch out for the noseeums hour. Around dusk you will find the little bugs throughout you little babe's hair, and they bite, so head out early. I used to be slightly maniacal about it when first on the island—at first sighting, I would grab all belongings, throw my little one under my arm and sprint to the car.
Sunscreen or coverings are always a must. It is always sunny here! Rash guards and hats are generally your best bet for keeping your little one sun safe.
Find and enjoy Well Bay, it has the nickname of "Baby Bay" for a reason. It is near the airport and is shallow, shady and calm.
My friend Julie always brought a bucket to the beach and brought the ocean to her babe who could enjoy a cool little beach bath in the safety of the shade. She says with the beautiful scenery, bucket time lasted way longer than bath time ever would.
Forget the small towel bring a full sheet or blanket to spread out for your little crawler.
Babies will eat the sand, so let that go and just imagine it is full of fibre and it is cleaning out their little system. FYI: To feign off any cause for alarm, the aforementioned sand does make a diaper appearance.
Avoid the sun between 11-2, hottest time of the day.
Bring a bucket of sand toys for extra amusement
I have once seen extremely beach savvy parents string a beautiful hammock in the shade for their little one. Note: this is less of a tip and more of a beach going parents' aspiration.
Sun Protection
One of the most dangerous newbie mistakes (aside from eating a fruit nicknamed "the death apple") is ignoring the potential damage of the sun. A lot of newbies have moved to the BVI from a spot further away from the equator, so they are not used to the intensity of the UVA and UVB rays in the tropics.
"We recommend that everyone, regardless of age, ethnic background or skin colour, apply sunscreen as part of their daily morning routine and reapply midday using a broad spectrum sunscreen, at least 30 SPF," said Toni Simpson of Sole Spa in Road Town. "As a rule, one person spending a full day at the beach should use a quarter to a half bottle of sunscreen in that time frame" due to reapplications that should take place "every two hours or after swimming, drying off or perspiring."
While this may sound expensive and extreme, it's not as expensive as rectifying the damage of the sun or as extreme as looking fifteen years older than your age.
Quoting directly from the U.S. Food and Drug Administration (FDA) "Manufacturers cannot label sunscreens as 'waterproof' or 'sweatproof,' or identify their products as 'sunblocks,' because these claims overstate their effectiveness. Sunscreens also cannot claim to provide sun protection for more than 2 hours without reapplication or to provide protection immediately after application (for example—'instant protection') without submitting data to support these claims and obtaining FDA approval."
In addition to sunscreen, we advise the use of stronger barriers to block out the sun. Wide-brimmed hats, long-sleeved t-shirts, rash vests, umbrellas and sunglasses all assist in protecting the skin from ultraviolet rays. If you do plan on swimming while wearing sunscreen, we recommend finding coral-safe products to protect the reefs while protecting your skin.
Photo Credit: Lotus Carroll