Summary
This is a popular tour for couples and families who want to see more of the BVI than most people do in their entire life. From west end Tortola, we'll land on west end Virgin Gorda. This trip gives us ample time on the water to enjoy the scenery.
The Baths in Virgin Gorda are awe inspiring as there are few places in the world so uniquely stunning. They are made up of huge geological boulders with pools of clear water nestled between them. You can snorkel the clear turquoise water, explore the trails between the boulders or simply chill and take in the amazing beauty. We then cruise to Cooper Island and have a pre-lunch snorkel around Cistern Point and Little Carvel Rock in Manchioneel Bay. After this we go ashore where you can enjoy a wonderful lunch followed by a visit to their micro-brewery, rum bar, coffee shop/ice cream parlor and gift shop or just relax on the beautiful beach.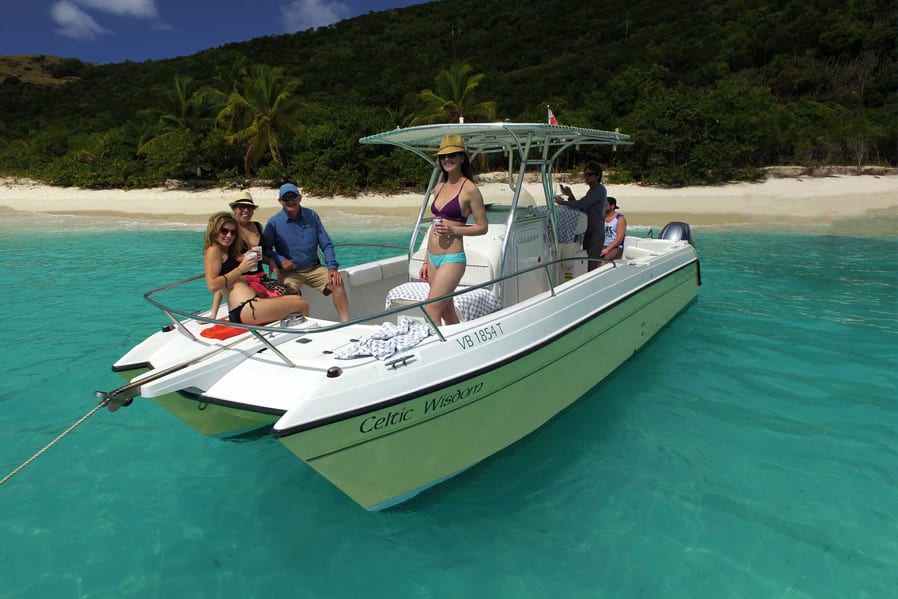 Where we'll go
Destination 1: Discover the Baths at Virgin Gorda
Start off with a scenic boat ride east, to the most iconic attraction in the BVI, The Baths at Devil's Bay Virgin Gorda. We'll grab a mooring take some time to explore The Bath's hidden pools and enormous volcanic boulders. Snorkel, explore or just take it all in.
Destination 2: Cooper Island Beach Club
We'll spend the rest of our day at one of the BVIs most premier eco-resorts. Here you will enjoy: world class snorkelling, the largest selection of rum in the BVI (The Rum Bar), Cooper Island microbrewed beer, gift shops, and artisan ice cream.
Break for Lunch
Enjoy Lunch at Cooper Island Restaurant.
Sunset Cruise back to the Dock
Enjoy onboard sundowners as we glide back home.
Duration of Tour:
A typical tour will last 4 – 8 hours. We try to get off the dock by 9:00 and back as early as 1:00PM and no later than 5:00PM.
Important Info
Charter fees include onboard soft drinks/beer and Fuel Surcharges. Departure dock locations and snorkel gear rentals fees vary depending on the provider. Alternate pickup/drop-off locations, other than a provider's dock may incur additional fees.
Gratuity at your discretion.
Due to the long duration of this trip, weather is permitting for certain areas.