Summary
Jost Van Dyke and its surrounding islands and cays feature spectacular snorkeling, amazing beaches and breathtaking views. Named after a Dutch pirate and settler, its rugged coastline and rolling hills, provides a backdrop for an unforgettable day. This tour is suitable for all ages and offers something for everybody with lots of time for either snorkeling or just exploring the nearby hideaway beaches.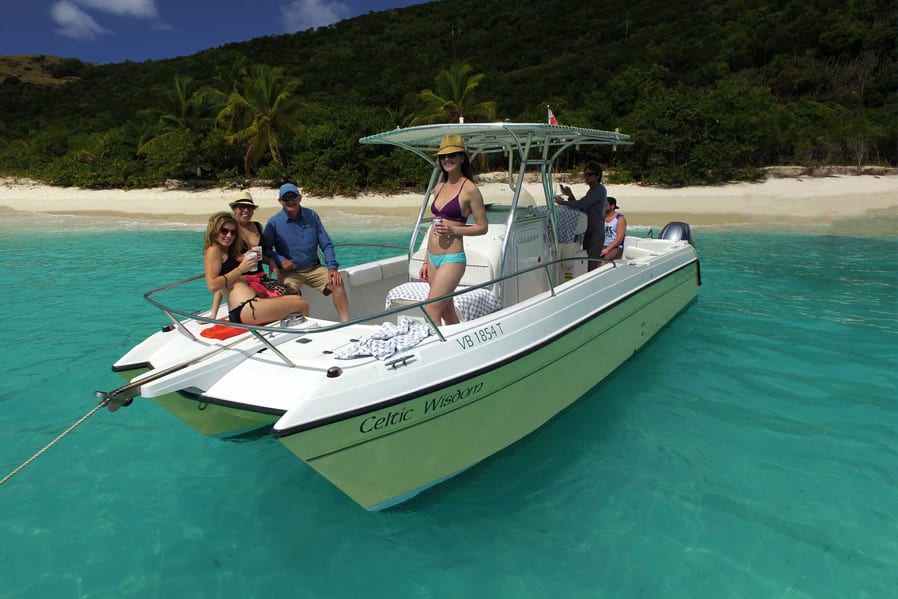 Where we'll go
Destination 1: Morning Snorkel
Depending on sea conditions and your with captain's guidance you will decide whether to snorkel at Sandy Cay, Sandy Spit, Green Cay or Little Jost Van Dyke.
Destination 2: Beach Time or Visit to the Bubby Pools
We can discovered a deserted beach on Little Jost or the eastern end of Jost. Alternatively, we can take a short hike to the Bubby Pools which is a natural breakwater from the sea that comes alive when the waves enter a pool like formation that makes the water bubble.
Break for Lunch:
We pick a place for lunch, so many great places for lunch near by……..tell your captain what you are in the mood for, and he will ensure you tastes are satisfied. Lunch costs not included in Tour.
Destination 3: Beach time at Great Harbour or White Bay
Spend the afternoon relaxing or snorkeling off the beach of your choice on the beach
Sunset Cruise back to the Dock:
Enjoy onboard sundowners as we glide back to Tortola as the sun sets over St Thomas and complete our perfect day.
Important Info
Meet at West End Private Dock at 9 am, returning by 5pm. Due to the long duration of this trip, weather is permitting for certain areas.
Fuel Surcharges, Charter fees, onboard soft drinks & beer and snorkel gear ARE included in this price. Gratuity is at your discretion.