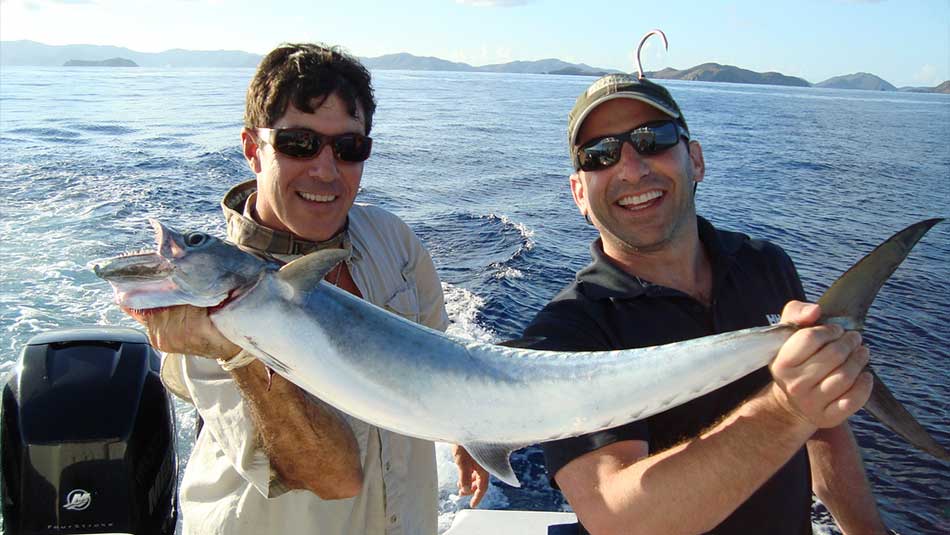 In the BVI, salt water fishing is huge and it is no wonder with the global location we are situated in. Tortola, Beef Island, Virgin Gorda, Jost Van Dyke and Anegada—as the main islands—are hotspots where avid fishermen and beginners will have the best experiences of the sport and companies such as Caribbean Fly Fishing will be only too happy to help you explore what this archipelago has to offer.
Lionfish
Lionfish are considered enemy No. 1 among the Virgin Islands' intricate reef systems. In fact, dive operators and fishermen throughout the Caribbean are actively pursuing the invasive little creature.
It's presumed that it originally first escaped from a Florida aquarium in the 1990s, soon breading and flooding the waters from the Bahamas to the Cayman Islands. The predator fish, native to the Pacific Ocean, was first sighted in the BVI in March 2010. Since that time, the problem has grown exponentially. The invasive fish currently has no known predators on this side of the globe, and have terrorised the waters' marine life ecosystem without repercussion.
Lionfish are a beautiful species, with wild and flowing fins and intriguing tiger stipe patterns running along their bodies, and typically grow from 12 to 15 inches in length. Large, poisonous spines protect the fish from potential predators, and should be avoided at all costs. While Conservation and Fisheries Department officials encourage fishermen and professional divers to hunt the creatures, nautical newbies are asked to steer clear of the fish and contact authorities if sighted.
Deep Sea Fishing
The Virgin Islands chain is situated handily between two remarkably deep troughs known as the North Drop and the South Drop. The North Drop lies in Atlantic waters, on a line just north of Anegada, about 20 miles out. Depths plunge quickly from about 100 metres to 1000 metres and beyond in a very short distance. The North Drop is famed for its marlin fishing above all, but is home to many species of game fish including sailfish and several types of tuna. These same fish ply the waters of the South Drop as well, but in varying numbers. The warmer waters of the Caribbean are more likely to offer up mahi-mahi, wahoo or kingfish. Recent years have seen many world record catches of game fish in VI waters. While the majority of game fishing activity is centred in the US Virgin Islands, a good number of boats are available in the BVI—principally out of Virgin Gorda's North Sound and Virgin Gorda Yacht Harbour, as well as from Anegada and Tortola's several harbours.
Fly Fishing
Saltwater fly-fishing—one of the fastest growing sports in the world—is regarded by many connoisseurs as the most exciting form of the sport. Pound for pound, saltwater fish are more desperate fighters and more acrobatic in their defensive manoeuvres than their fresh-water counterparts. The best spot for fly-fishing in the BVI is undoubtedly Anegada, where bonefish and tarpon are the prey. Those species can be found throughout much of the Territory of course—again Tortola, Beef Island, Jost Van Dyke and Virgin Gorda must be tried, but Anegada offers up miles of shallow flats that can be worked from specialty poling boats drawing just a few inches. Some cruising sailors fish from their dinghies, but those boats draw too much water to truly get close to the fish. Guides are recommended and are essential if you want to use a poling boat.
Photo Credit:cdorbek