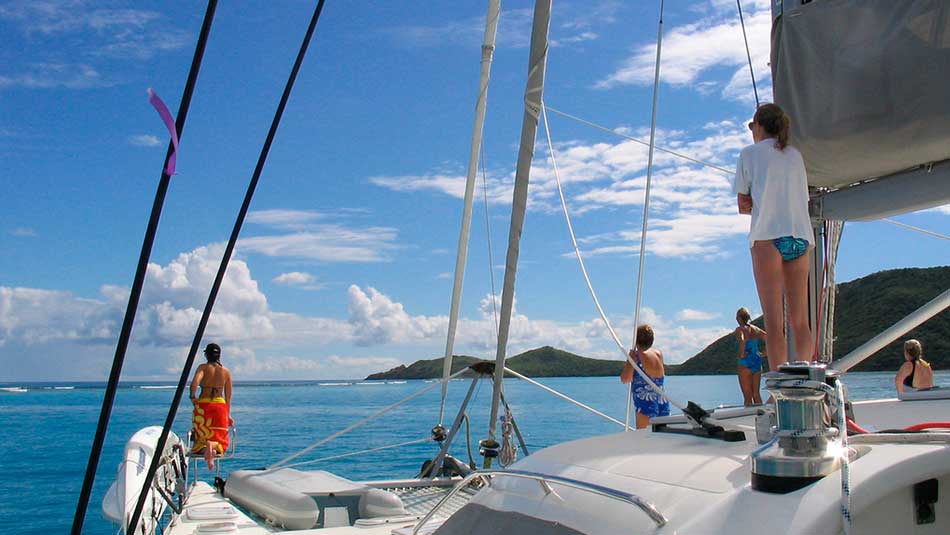 The modern charter trade basically began here in the BVI when Charlie Cary and his wife Ginny showed up cruising in their own boat back in the 1960s. In those days, cruising sailors were few and far between and formed a community wherever they went. They looked after each other's boats and, in the Carys' case, volunteered to manage the boat of an absent owner should a prospective charter guest show up.
From there it was a short but inspired leap to commissioning a fleet of specialty yachts, all identical, which could be offered strictly as charter yachts.
The Carys' company, which they called The Moorings, grew from a humble half-dozen yachts into its current iteration as one of 240 brands, including Sunsail and Footloose, under the corporate umbrella of TUI Travel PLC. In many ways, the charter industry fills the niche occupied by hotels in other tropical destinations and has staffing and support service requirements similar to that industry. The biggest growth in recent years has been in the crewed yacht sector, with larger and more luxurious vessels plying the Territory's waters. This growth has put a squeeze on the resources available, making dockage more expensive and elusive.
TUI Marine's purchase of Tortola Yacht Service's yard at Wickam's Cay meant less space available for private boats.
For a new resident or visitor in the BVI, the net effect is that there is a vast array of services available for the watersports enthusiast—or enthusiastic novice for that matter. Dive operators, surfing, powerboating, kiteboarding, paddleboards, and windsurfing rentals are all there for the asking.
For those with a service-oriented outlook, VISAR, the Virgin Islands Search and Rescue, always has openings for new volunteers who want to ensure our waters remain safe.

Sailing Schools
The BVI is renowned as the sailing capital of the world. Due to this grand title, many learn how to sail here to truly take advantage of the Territory's legendary waters and 60 island and cays. Others take it a step further, taking an independent route that will grant them qualification as a Captain.
For those with a desire to sail but who lack skills or experience, a number of sailing schools offer certification of various types—which might best be described as the British system vs the American system.
The British system is the RYA (Royal Yachting Association) series of certifications comprising Competent Crew, Day Skipper and Coastal Skipper levels, among others. An ambitious sailor can continue up to Yachtmaster Offshore or Yachtmaster Ocean and even proceed to garner commercial endorsements which could lead to a professional career as a charter skipper (should you weary of your back-breaking duties driving a computer all day). The RYA qualifications are respected worldwide and might enable a duly certified sailor to charter in different locations internationally.
The US system is divided between US Sailing and ASA (American Sailing Association) certifications. There is very little difference between them in terms of their content. US Sailing qualifications might convey a little more prestige insofar as US Sailing is the organisation overseeing the sport of sailing in the US and is a close analog to the RYA.
The American Sailing Association is a for-profit sailing school franchise with wide reach. The major difference seems to be in the instructional material with US Sailing the clear winner on account of their well-produced and very clearly laid out books. One aspect of instruction and certification to consider is that many European destinations now require an International Certificate of Competency. If you intend to charter in a foreign jurisdiction, you might enquire from your sailing school if they can provide the document.
Be aware though, that a sailing certification isn't a driver's license in that a charter company isn't obligated to rent you a boat on the strength of your piece of paper. They like to see a resume detailing a wide variety of sailing experience too. Many charter companies offer sailing instruction—if you get certified through a charter company, the benefit is that you might be able to charter a yacht from that company.
Bareboat Skipper Credentials
To qualify to be a bareboat captain in the BVI you will only be asked to complete a resume of your sailing experience as no licenses are required for bareboat cruising in the BVI. Charter companies are willing to accept a skipper's eligibility based on his or her experience, unlike the Mediterranean where you are required to have the RYA Day Skipper, ASA 104, US SAILING Bareboat Cruising certification or your country equivalent as proof of training.
Although having certification would improve your chances of chartering larger yachts, it is experience that is your real assessment. If there are any questions about your skill set, you will be expected to go out on the water with a 'friendly skipper' from the charter company so that they may assess your practical skills at some of the basic manoeuvres (docking, mooring, anchoring, navigation etc).
You will also be signing a contract with the charter company, stating that you have the required experience and are capable of handling the yacht safely and will take sole responsibility for it, should there be any later disputes.
Several charter companies are accepting the NauticEd Sailing Certification, which is an online resume onto which you log practical experience. The more you log on the cloud, the more you boost your 'certification' and charter companies are able to log in to your profile to verify your practice.
If you feel that you would like to have tuition or support, then you have the options to join a flotilla, or take a sail training course which charter companies will arrange.

Company Websites Resume Forms/Info List
Sailing Schools
Racing
With the BVI renowned as the sailing capital of the world, subsequent to a sailing introduction, it may grab your interest to investigate why the sport is so loved on these islands. One of the best ways to learn how to sail, or to cement skills recently attained, is by racing in one of the many regattas and events scheduled in the BVI throughout the year. Alternatively, the weekly IC24 fleet races held at Nanny Cay Marina every Friday evening present the chance for beginners through to veterans to practice their skills.
Captains are always seeking crew, even if your only responsibility is ballast (extra weight). The IC24 skippers are true ambassadors to the sport and welcome new recruits (especially if they bring beer). They happily instruct newbies on sailing fundamentals. This is a fun, fast-paced, hands-on way to learn the terminology and basics of sailing.
main photo by: Deanna Keahey