Continue to the SURVEY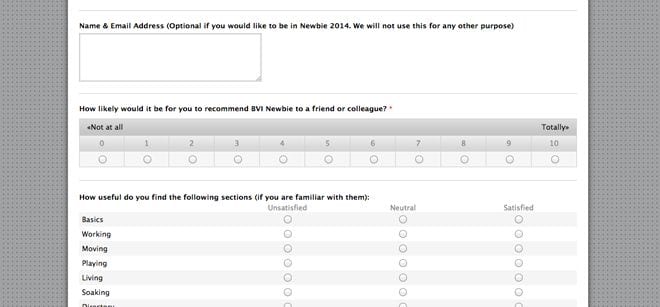 In case you didn't know about BVI's Newbie…
[learn_more caption="About Newbie" state="open"]Newbie is the unique guidebook that readers have come to rely on as an ambassador for business, lifestyle and overall acclimation to the British Virgin Islands (BVI).
Serving as an attractive welcome manual to visitors, newcomers and residents alike, it contains details on everything BVI. From maps to ferry schedules, places to dine to beautiful beaches, right down to specific taxi fares, it completes any bookshelf, glove box or coffee table in the territory.
As an 8.5″ x 5.5″ spiral-bound handbook with content tabbed by section for fast navigation, Newbie travels everywhere. Reaching the office desk drawer or the car dashboard, it is a crucial appendage for all who tour and/or work in the BVI. Holding such a role, online networking is significant to Newbie; therefore, Newbie is made accessible on all electronic platforms so that regardless of location, the information is always within reach and is promoted with fun, interactive events, delivering our brand name to the community.

[/learn_more]