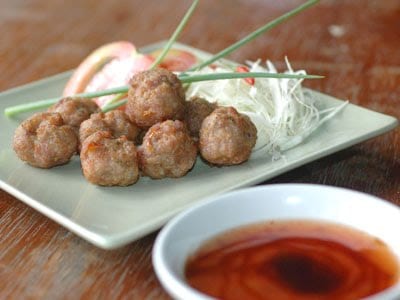 Little Eden Menu
| | |
| --- | --- |
| Prawns EDEN | $25 |
| Spaghetti Bolognese | $15 |
| Carne de Porco à Alentejana | $35 |
| Wine | $10 |
| Mineral Water | $5 |
[two_third_last]This is EXAMPLE LISTING! Our Restaurant is open from 8am to 9:30pm. Choose from our extensive Thai food selections and our range of international house specialties and recommendations.To start the day, try the cheese and Tomato Omelette it is a delight due for the Vintage Cheese.
Beans on toast with fried eggs is good after a long night out or the Thai Hangover Breakfast for obvious reasons.
The Thai food on the Menu consists of a selection of typical Thai dishes, we prepare them in the original way, but we can adjust the spiciness to your taste. The curries are very popular especially the green curry. Chicken with cashew nuts is very popular too, try this one spicy to awaking your taste buds. Most dishes can be served as Vegetarian dishes with Tofu.
[/two_third_last]
[two_third_last]
The "Prawns EDEN" is a very popular dish. The Prawns are speed-fried in "Bertolli" Olive oil then Lime juice is added and lots of Garlic rounding it of to a succulent delight, dipping the toasted Baguette in the sauce, yum yum, a glass of the south african white wine goes well with the prawns.
The "Spaghetti Bolognese" is on the Slow food page in the Menu but it is usually available because of it's popularity, try a glass of Mont Clair red wine from south africa or the Bodegas from chile to spoil your taste buds.
Carne de Porco à Alentejana is something special, diced pork is marinated in "Mont Clair" white wine, garlic and herbs for 24 hours, an unusual combination of Pork, Mussels and fried potatoes, a very tasty national dish from Portugal served with toasted Baguette.
[/two_third_last]