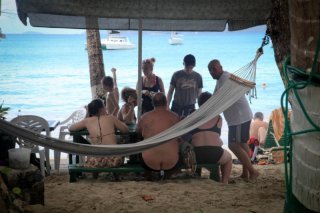 I often crawl Facebook's "insight" function for our NEWBIE fan page. It helps us gauge what content works and what sort of posts we can do without. Because, of course, we wouldn't want to bother you with posts not worth your time. To delve deeper into this data, and because I have nothing better to do on this lazy Monday afternoon, I recently took a selection of our top ten viral photo posts and combined them with rating stars below the pictures. From famed street legend Yello wearing her NEWBIE threads to a backhoe island hitch and the rockstar island dog, we've amounted quite a selection. Now it's your turn to let us know which one is your all-time favorite.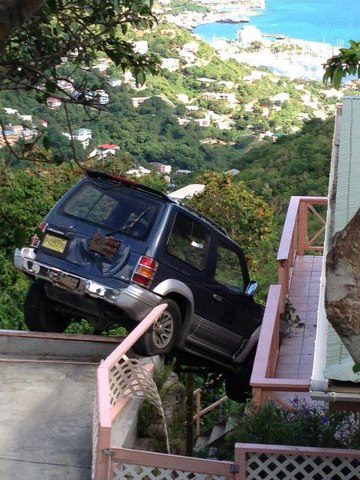 "So…That happened" (10/24/12)
When BVI rapper Mullah Gwop drove past this scene off Ridge Road, he jumped out and took a photo. Shortly after posting the photo to Facebook, it went viral. Shortly after we reposted this pic to our Facebook page, local news site BVI Platinum wrote a short news brief about the matter, which they reported left no one injured.
---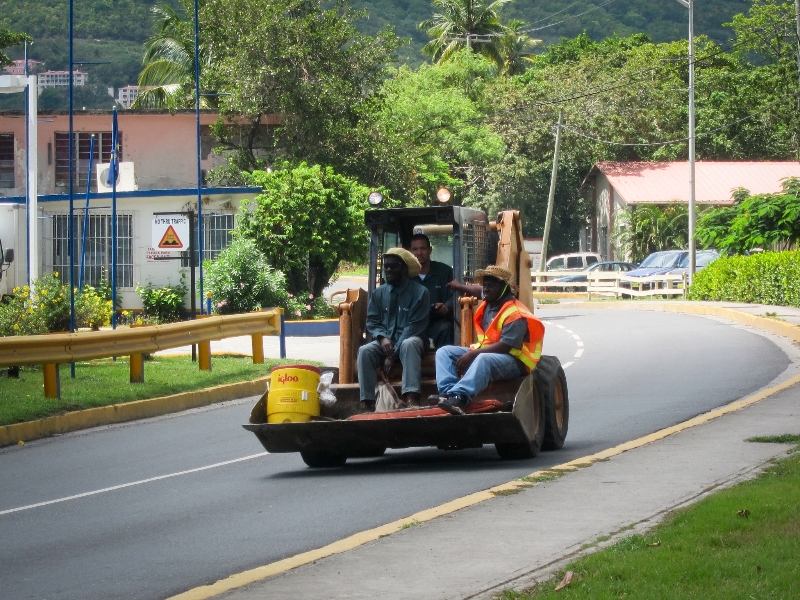 "Best island-ride-hitch combo of all time." (9/27/12)
After a few years living in the BVI, I'm used to extraordinary. But when I was caught behind this slow-moving trio, I had to do a double-take. My favourite part about this inventive hitch is the cooler in the front bucket–limin' at its finest.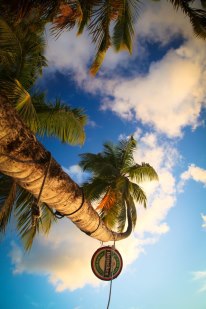 You might want to tilt your head while looking at this photo. Don't. (4/20/12)
Living in Cane Garden Bay, I sometimes blend in with the tourists while snapping photos of the lovely seascape. This particular tree, which jets out almost over the sea, is probably one of the most photographed trees in the Virgin Islands, if not the entire Caribbean. The only thing its missing in this photo is a tire swing, which used to hang from its trunk until a few years ago.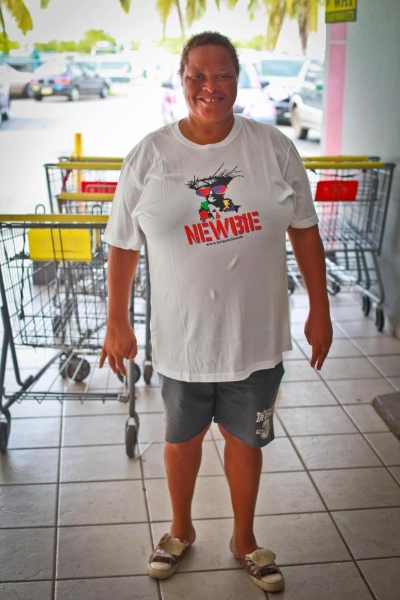 "New kid on the block" (6/20/12)
Yello is no stranger to our officeplace. Most days she makes at least one trip to the RiteWay in our plaza, where she can be heard serenading customers with the sounds of Lady Gaga and Madona classics. We were happy to give her a promotional T shirt after she asked. And she was happy to pose with a wide smile while sporting her new fresh threads.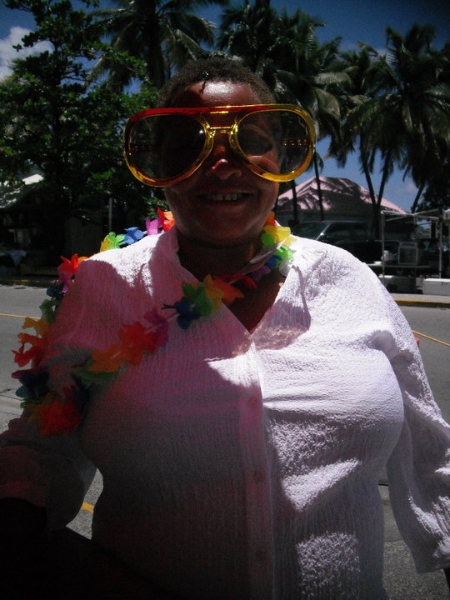 "Yello looking dapper at Carnival" (8/5/10)
This photo of Yello also gained a lot of "likes" from our fans, who apparently are also big fans of our friend who loves to rock our NEWBIE garb. Here, she's seen wearing our NEWBIE glasses and hat outside of our BVI Festival 2010 booth.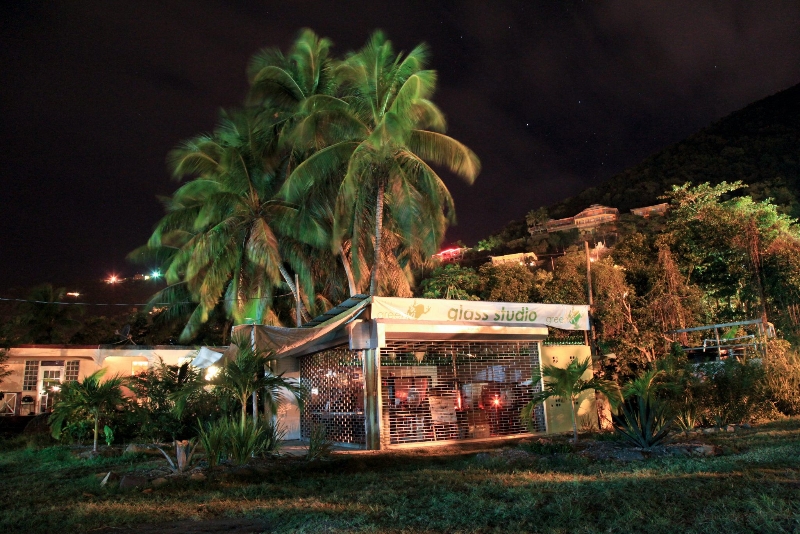 Cane Garden Bay on a Monday night–Glass Studio (1/17/12)
If you couldn't tell by now, I like to photograph Cane Garden Bay. This photo of the Green VI Glass Studio was part of a series I did during the wee hours of a particularly clear January night.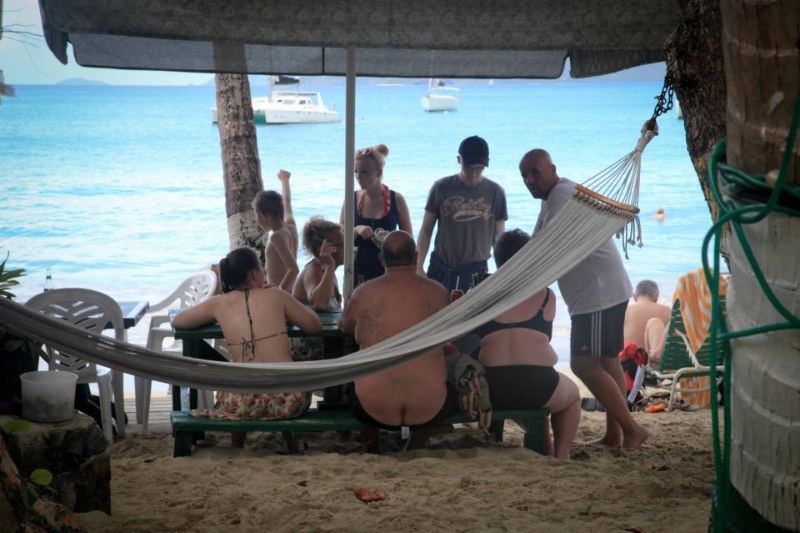 "Half moon party witnessed on Cane Garden Bay" (11/12/12)
I might have gone a bit too far posting this picture. According to many of your comments, I did. However, this picture has received the most Facebook "Likes" to date. 
"I've never met someone who has regretted adopting an island dog" (6/11/12)
I snapped the shot of this stylish dog in Rincon, Puerto Rico. The slick stroller belonged to a group of surfers. I couldn't help but snap a photo of this cutie, who looks like so many other "beach dogs" I've met over my years in the Caribbean. It must be a close lineage.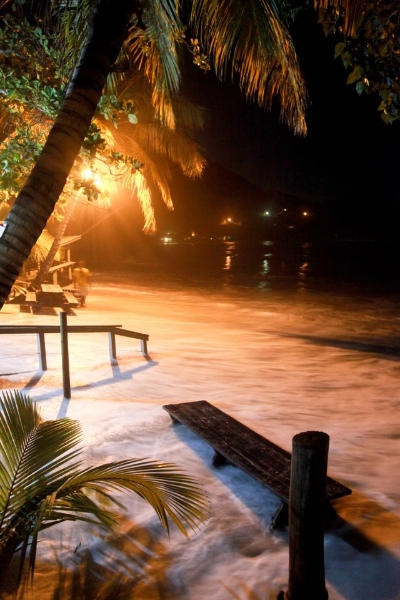 Last night's swell basically swallowed Cane Garden Bay Beach (10/24/12)
I took this photo from Myett's Garden Grill in Cane Garden Bay. Shortly after Hurricane Sandy spared us from her wrath, she left behind a swell that had surfers from near and far battling for her epic waves. On this particular night, however, the tides came in to an alarming point–almost into the bar. It buried beach tables and chairs and called for a bit of cleanup, but the beach has gone back to its familiar shape.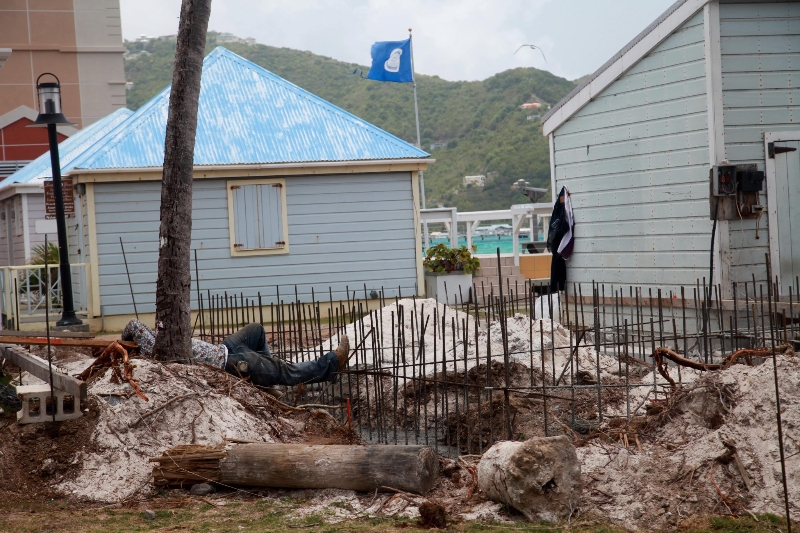 Work in full swing at Crafts Alive Village (8/24/12)
I caught this guy snoozing on the job while I was shooting for a Virgin Islands Property & Yacht piece.   I didn't really want to put him on blast, especially since workers there generally did seem to a quick and efficient job, but in the name of humour I went against better judgement.