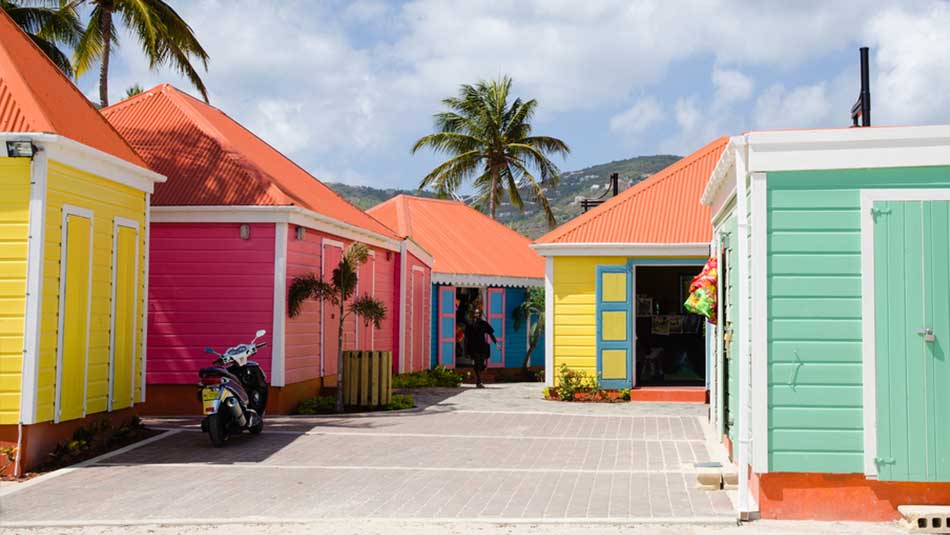 Shopping
Department Stores
If a shop is labelled 'department store' in Tortola, that usually means that it carries more than just one type of item, but it doesn't mean that it carries everything. Varieties and Electronics in Road Town sells mostly men's and women's clothing, but also carries shoes, linens, and all the necessary electronics in a separate building adjacent to its clothing counterpart.
Island Department Store in Sea Cow's Bay doesn't sell clothing, but carries housewares, linens, electronics, appliances, furniture and toiletries. Bolo's in town provides one of the best arrays of cosmetics and a pretty extensive perfumery upstairs, but they also sell children's toys, electronics, housewares, bedding, stationery and cleaning products.
L & L Buy and Sell in Fish Bay on Tortola is a consignment and resale store. Opening its doors in 2013 and the first of its kind in the BVI, it has been met with widespread praise and offers both new and second hand items to the island like a physical version of the ever-popular Facebook Group BVI Bring and Buy.
Clothing
When seeking outfits for the beach or the bars, the BVI has a vast selection of funky, sexy, comfortable clothing for every shape and size. The shops at Nanny Cay and Trellis Bay offer some great choices for water-wear for men, women and children. A great starting spot is Arawak boutiques, a one stop for surf and resort apparel for in and out of the water. With a large selection of clothing, accessories and gifts for all occasions, they have three locations across the BVI – Nanny Cay and West End in Tortola and Leverick Bay in Virgin Gorda.
For ladies' party clothes, meander down Main Street, starting behind Pusser's and ending by the bottom of Joe's Hill and stop into all the shops along the way to find quirky, trendy fashions. Then hop onto Waterfront Drive and crisscross the street, stopping in the department stores and clothing stores you pass. You're guaranteed to find a few preferences.
On the other hand, finding quality, office-appropriate clothing in the BVI can be a challenge, especially for men, but there are several stores on Main Street and Waterfront Drive that sell shirts, ties and suits. While the no-franchise law keeps the BVI from looking like a McTourist destination, it also prohibits the designer stores you might be used to.
Costumes
Every month there seems to be a different themed party that requires a costume. Luckily, there are amazing wig shops in the BVI—one on Main Street across from the Road Town Bakery and one by the roundabout—they are the best places to visit for inspiration. From blonde bobs to purple afros to rainbow Mohawks, the perfect wig can guarantee an instant transformation. Alternatively, online shopping will provide you with a world of options.
Home Furnishings
Several home stores in the BVI import high-quality and climate-sensitive furniture and accessories from remote destinations. Between the selections available, you can easily kit out your pad with choices both funky and functional.
SERVICES
Home Services
Services such as plumbing, house cleaning, gardening and pool maintenance, tend to be reasonable and reliable in the BVI, but it's worth shopping around and asking for estimates as there are no set pricing guidelines. Rates can range from $10 an hour for a cleaner who does everything from windows to ironing, to $25 an hour for a cleaner who mops floor.
Shopping Online
Shopping online is often the best way to procure specific items that are not on island. See Shipping and Duty Costs for more info on online shopping.
Laundry
Many homes in the BVI lack laundry facilities, but residents have options ranging from dry cleaners, laundry drop-off, and coin-operated machines. Prices for washers range from $2.00-$3.00 per load. Dryers usually cost $.25 for every five minutes. Drop-off laundry services can run from $7.00 per load to $15.00 per load, depending on the weight. Dry cleaning rates are typically around $5.00 for cleaning and pressing men's dress shirts, $12.50 for suits, $6.00 for trousers, $10.00 for dresses and $5.00 for blouses.
Yacht Cleaning
Yacht crews in the charter trade are notoriously finicky when it comes to cleanliness. Yachts live and die on their appearance and no effort is spared to keep the boat ship-shape, Bristol fashion and so on. Not only is it an aesthetic choice but it is essential for the longevity of fixtures and fittings aboard ship.
For the owner of a private vessel, the necessity for cleanliness is just as great. In fact, since many private boats sit unattended for days, rain and salt deposits may crystallise and fester and oxidise on every surface, leaving a silver chalice looking like a rust bucket. Most cleaners can be found through yacht management companies and the like. An enterprising boat owner in search of a good worker might wander the docks at Village Cay or Nanny Cay, where the charter yachts are, and enquire. A good cleaner, once found, is clutched on to with surprising fervour. Bidding wars for their services are not unknown, though often the seeker may have to settle for a sister or a cousin of the desired one.