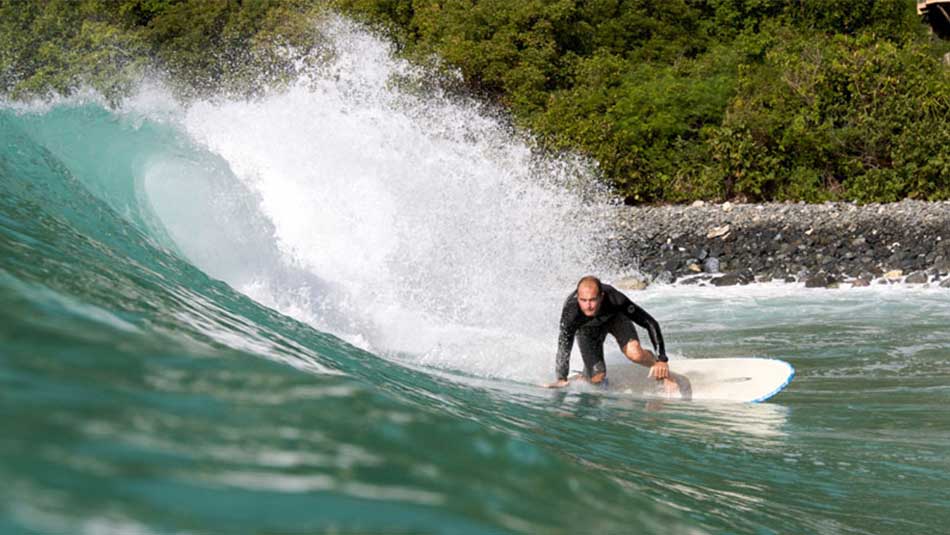 Tortola – Cane Garden Bay
With a right point break, Cane holds the biggest wave on the island, and surfers fly in from all over the world to ride it. Expect it to break 6-10 times a year. It wraps around the rocks, and you can ride across the whole bay. Make sure you can duck dive, ride and handle yourself safely. Consider Cannon Point an expert's wave, and do expect the locals to hold guard here. Newbies will be welcomed in, but you must pay your dues. Island surfers are friendly and encourage new people on the water, but Cane does not break every day, so it is to be savoured. The locals have been waiting for it too, so mind your Ps and Qs! Some people live in the BVI for Cane days. Boards are shaped locally by legend Bob Carson – Bob has been shaping since the early 70's – look out for a few retro shapes ripping up the wall with a smooth style.
Tortola – Josiah's Bay
Surfing at Josiah's is popular on this beach break. As a general rule of thumb, if the surf is up, it is not safe for swimming. Josiah's Bay has a backwash, undertow and two fierce rips that run high in the swell, but make for an awesome paddle-out channel. Josiah's picks up NW swells quick and is known to get the bigger of small swells, making it a great progressive wave. A short left and a long right, this break is popular with beginners and experts and has a real-world feel to it as in the wave is never quite the same as the sandbar shifts regularly. A second sand bar is further out back, and in a big swell can be worth the paddle out for big drops across the bay. Josiah's is a slow wave, but beware close outs, and be prepared for a lot of pounding in a big swell. Losing bikinis or board shorts is always comical, but do not underestimate the sandbar—ride with caution in a big swell, it can get shallow pretty quickly. This is the favoured Sunday surf spot for residents—beginners and experts—a few drinks and something to eat up at TheTamarind or on the beach. Try Naomi's rice and beans. Big swells here claw the sand off the bottom, so after a big storm expect rocks to be exposed and your bikini or boardies if you tumble in with it.
Tortola – Apple Bay
With road and sea access, Apple Bay is one of the most sought after breaks in the BVI, topping off the scene as the significant intermediate wave on Tortola. As a reef break, it also has an inside shelf that has seen many do the 'crawl of shame' when riding just a little too far in. With easy channel access from left and right of the main break, this is the home away from home for many visiting surfers (notables include Kelly Slater, Jimmy Buffett and Coldplay's Chris Martin), and the aspiration of many newbies to the lifestyle. Waves break predominantly right with a tapered left – works best with SE winds and direct Atlantic Northern swell. As an intermediate break and one of the most popular, do pay attention here and remember the bottom is coral not sand so try not to park it hard. Swimmers please note that when the surf is up, this really is a no-go zone due to current and reefs. Located on the North Shore between the beautiful beaches of Long Bay and Carrot, Apple Bay is a must see, must do and must marvel. If you are visiting, be respectful!
Anegada
Kiteboarding magazine says it all: "Whether you're after world-class wave riding, scenic downwinders or epic flat water, Anegada's Kiteboarding in the BVI is one of the most beautiful, diverse and surprisingly empty kiteboarding spots on the planet."