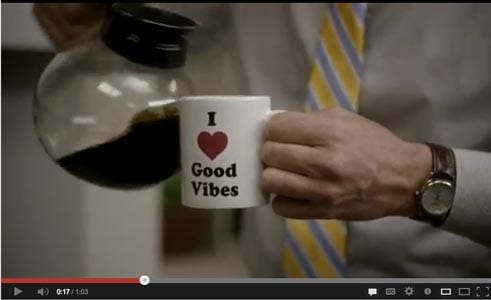 Have you seen the new Volkswagen commercial slated to air during this Sunday's Superbowl? It has sparked a familiar debate about the use — or misuse — of Caribbean dialect. During the "Get Happy" commercial, a Caucasian man parades around a seemingly dull office place touting phrases like, "Don't worry mon, ereyting gonna be alright" and "Don't fret meh bruddah, stickybun come soon" and "Respect, bossmon!"
It would appear that the actor in the commercial has made a jubilant transformation since owning a Volkswagen. Although lighthearted in tone, the advertisement has been viewed negatively by some, who feel that the comical use of a largely black cultural dialect contains a racist undertone. New York Times columnist Charles Blow voiced his discontent for the commercial on this morning's Starting Point with Soledad O'Brien on CNN.
"I don't like it at all," he said during a roundtable discussion. "It's like a blackface with voices. I don't like that."
Officials from the German automaker company told CNN this morning that they were surprised to receive criticism after airing their commercial on YouTube on Monday. Executive Vice President Tim Mahoney said that the company met with 100 Jamaicans and even used a "dialect coach" during the filming of the commercial to ensure the accents were authentically portrayed. He also noted that famed reggae artist Jimmy Cliff's "C'Mon Get Happy" was used as background music for the commercial.
Wall Street Journal Senior Editorial Director Chris John Farley, who was born in Jamaica, had his own reservations about the commercial. "Although I love you featuring Jimmy Cliff, the Jamaican accent did sort of strike me as Jar Jar Binks-ish," Farley said.
The topic was also discussed during this morning's Today show.
"I take a completely different view of it, to be honest with you," said host Matt Lauer, who countered Lippert's stance. "I thought, if you buy this car, it puts you in a happy place. … And what's happier than the memories we all have of being on beautiful island on island time?"
At the time of this post, the video had received more than 1.5 million YouTube hits. The minute-long commercial fills an almost $8 millon slot during Sunday's game.
NEWBIE WANTS TO KNOW: Do you think this commercial is offensive? Leave your comment below.