The 3.7 magnitude earthquake didn't help my insomnia. I was watching a ripped copy of Lincoln just after midnight when a loud BOOM and short tremor shook my hillside Cane Garden Bay bungalow. It turned out to be the climactic epicenter during my 2-and-a-half-hour journey through the historical film. To be certain I wasn't going crazy, I posted "earthquake??" to my facebook page. A friend in Road Town and one in Cane Garden Bay had also felt the tremor. Sanity verified?
I'm usually the last person to hear about earthquakes in the BVI — let alone feel them. But they are a frequent occurrence in the BVI. Anegada is the closest of the Virgin Islands to the Anegada Trough, if the name itself didn't give it away. According to the Puerto Rico Seismic Network, the quake's epicenter was 100 km north of Anegada, at a depth of about 40 km. From there, the quake could be felt throughout the VI and all the way over to Puerto Rico.
While this rattler was small in comparison to a damaging quake, it serves as a reminder that we do live under the threat of a devastating earthquake or tsunami–although historically rare. In 1867, a  7.5 magnitude earthquake ripped through the islands, effectively separating St Croix from the rest of the island chain, according to Disaster and Disruption: Hurricane, Earthquake and Tsunami in the Danish Virgin Islands.  But, it's not likely something like that would happen in our lifetime, right? RIGHT?
In the event of an earthquake, the BVI DDM suggests the following:
"…it is important to stay calm, if you are inside stay there, move away from ceiling fans, glass windows and doors or anything that may fall.  Get under a desk or sturdy piece of furniture cover your head and hold on. If outdoors, move into an open area away from trees, building, or utility wires and poles.  During an earthquake the more you move the more likely you are to be hurt, so refrain from entering or exiting a building at the time of the impact."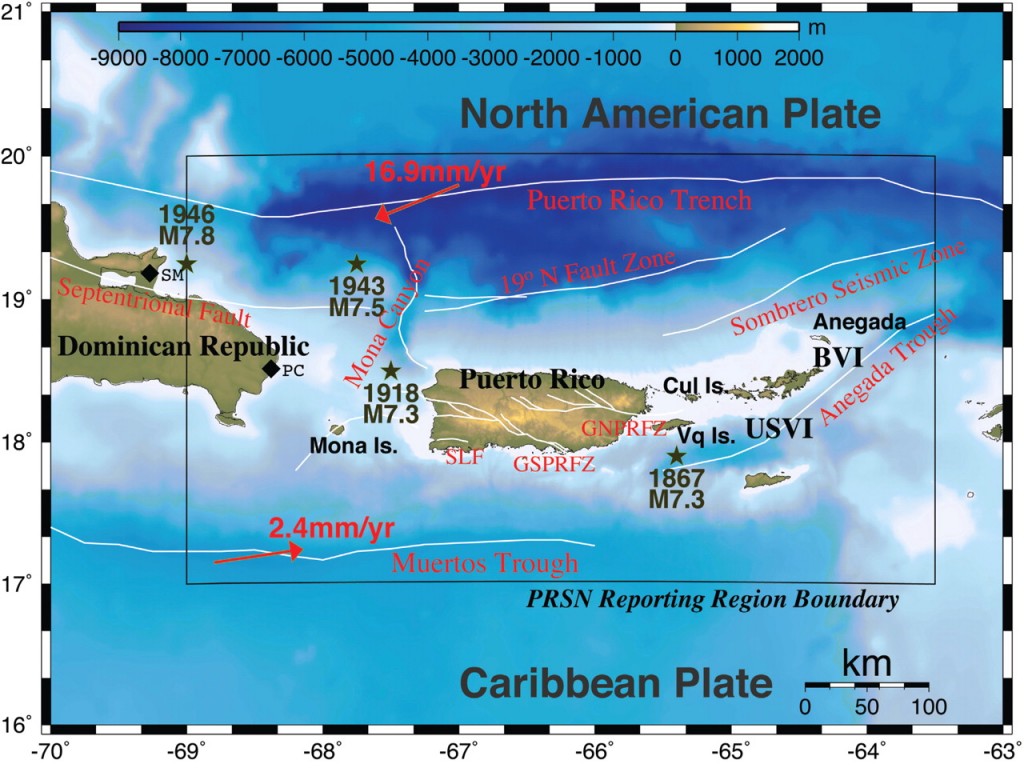 Map courtesy of www.geoscienceworld.com