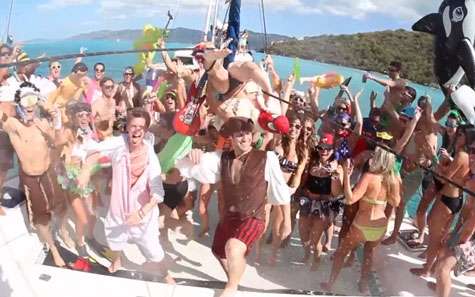 [updated]
A man in a sleeping bag dancing under water, an old lady picking her nose, people with horse heads spilling milk over themselves. Creativity for some, foolishness for others. But whatever the case, all are watching. In real time, 2,782 years if harlem shake footage was watched in a single month–that's some 27 centuries of eyeballs on Harlem shaking.
SCROLL DOWN FOR HARLEM SHAKE VIDEOS FROM THE BVI
[learn_more caption="What is the Harlem Shake (meme)?"] It's usually a 30 seconds long video with a group of people performing all sorts of crazy dancing and comedy sketch, accompanied by the "Harlem Shake" song by Baauer. Usually, the video begins with a single person dancing for 15 seconds, surrounded by seemingly uninterested people. In the other 15 seconds, the entire group engages in crazy, often repulsive way of dancing.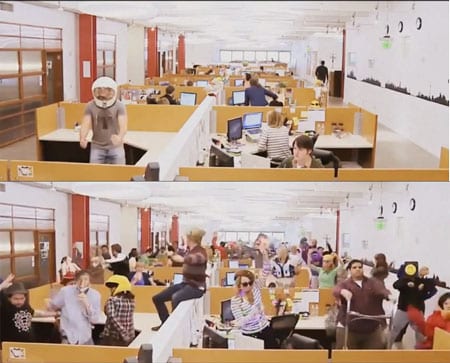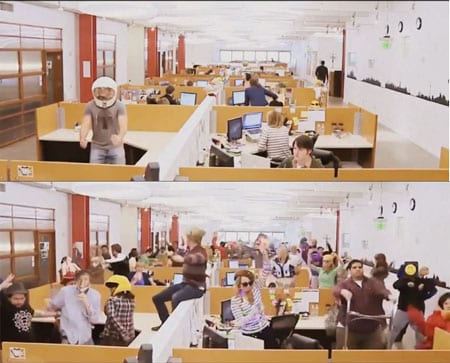 [/learn_more]
Is the Harlem Shake dying or growing?
Thousands of videos were uploaded to Facebook in early February 2013–currently with tens of millions views (more than 36,000,000 for the video above). It seems not to go away. The Atlantic magazine declared the meme to be dead as early as mid of February. Forbes magazine states that there is just too many videos and people should not create new ones. Nevertheless, the new videos continue to be uploaded, immediately receiving high traffic as new-Harlem-shake hungry people just can't resist to watch.
Don't forget to comment at the end of the post!
Con los terroristas!
Top 5 Harlem Shake Videos
5. The Giraffe Harlem Shake
The unforgattable giraffe.
4. Harlem Shake at 30,000 Feet
The crew of the plane got into serious problems for this (read CNN article)
3. Harlem Shake Stadium
Harlem Shakes with a large number of people is popular.
2. Skydiving
Many brands and advertising agencies take the Harlem Shake as an opportunity (redbull in this case)
1. UGA Men's Swim & Dive Harlem Shake
One of the most notable Harlem Shakes, do it under water…
Harlem Shake and the BVI
First BVI Harlem shake videos out there certainly have some BVI taste to it.
What do Harlem residents think of the Harlem Shake?
"What the hell is that?!" "That's not the shake, B… No good!" "That's just bugged out… That's humpin'." "They smokin' dust!"
Those are just a few reactions from real Harlem residents. "Don't disrespect the Harlem swag." Check out how Harlem world views the Harlem shake here:
Post Traumatic 'Harlem Shake' Disorder – (PTHSD)
In case you are planning to make your own video, you have our approval. Everything is set up for you. You can download a mobile app for Android or Iphone that will cut your video and place the music. When you finished your upload, you can get some help, just see the video below…
What do you think of the harlem shake? Praise, wonder or send us your BVI Harlem Shake videos in the Facebook Comment Section below.