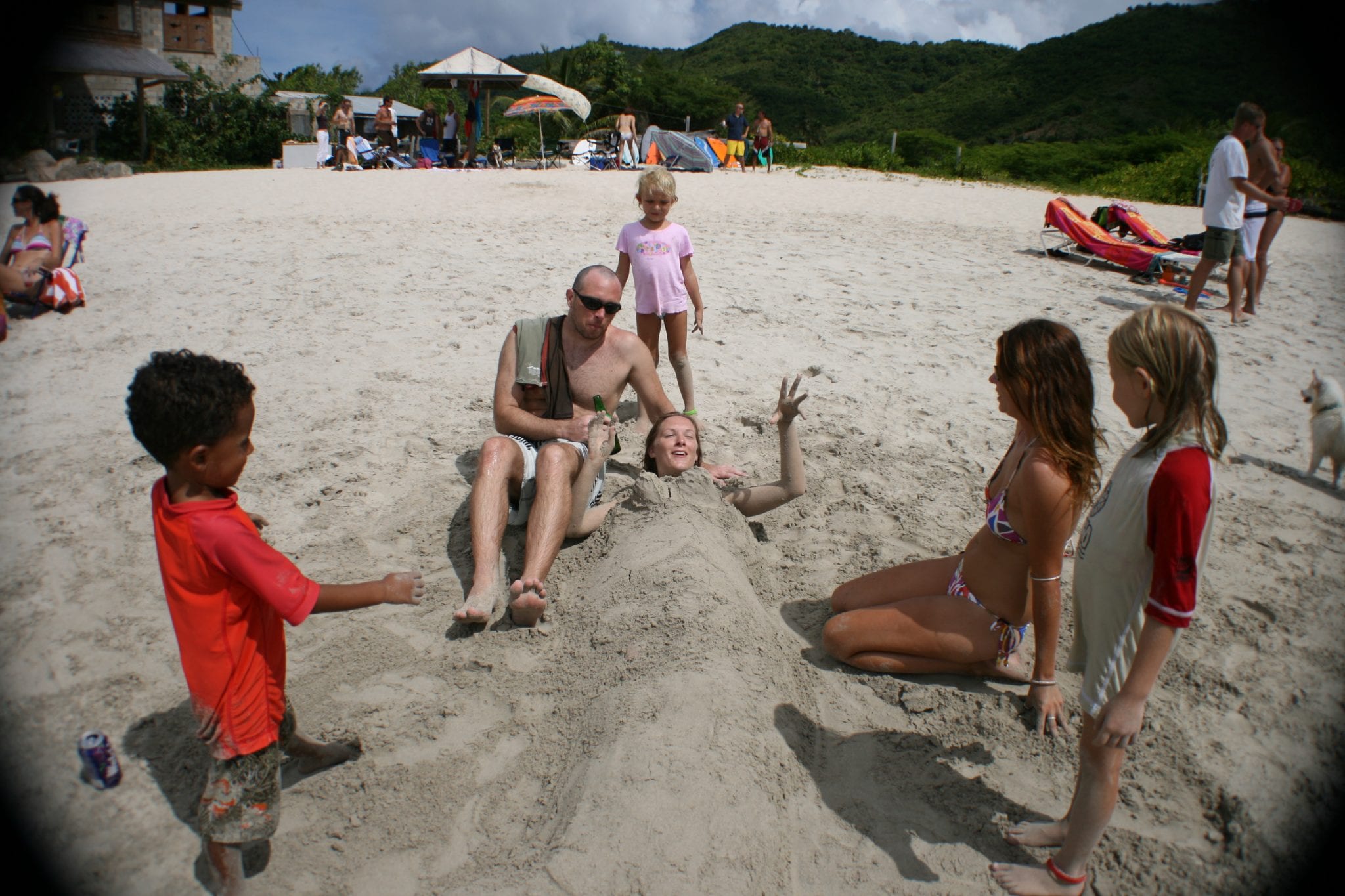 Family vacations can be tricky, keeping everyone entertained, fed, watered and rosy in a non sun burnt way is a skill in itself. Luckily the BVI has something special…water, so maximize your time in our splash zone.
Fishing
Numerous fishing options for Dad are available, depending on how long he wants to relax out on the water. Fishing experiences start at a half-day of private fishing, running from 8 am to noon or from 1:30 to 5:30 pm. Other options are structured similarly: a 3/4-day of private fishing offers six hours of water time and a full day offers eight hours. The best part of these experiences? Dad gets to keep his catch! Water, soft drinks, beer and ice are provided, as well as tackle and bait, safety equipment, and camera equipment.
Beach Time
Mom can avoid the crowds and relax on the quiet sands of picturesque Anegada, grab a bite to eat or a legendary Painkiller cocktail at White Bay on the island of Jost Van Dyke apparently Soggy Dollar invented the painkiller, keep the kids entertained with virgin (non alcoholic) cocktails for the kids or explore the calm snorkeling waters of Brewers Bay, North Tortola.
Surfing
For the adventurous teen in the family, surfing classes in Josiah's Bay are a fun and rewarding way to spend time in the water. One lesson lasts 60 minutes, and there's an option to rent the surfboard for longer if your teen is addicted. Ask for Steve at Josiahs. For those who already have experience with surfing, you can rent a surfboard per hour and choose your board type during booking.
Mangrove Paddle
A paddle safari through a mangrove lagoon is a perfect activity for little kiddies who want something gentler than surfing but more active than beach time. Professional local guides lead paddlers through the waters of a mangrove lagoon, which can include sights like reef fish, baby sharks, young stingrays, turtles and barracudas. Land views include rare bird life and saltwater forest foliage. Paddles can last up to two hours on the water, and guests can choose to take kayaks or standup paddleboards on the excursion.
For the Whole Family
Here are some activities the whole family can enjoy together:
Exploring The Baths National Park on Virgin Gorda: The southeast coastline of Virgin Gorda is scattered with massive boulders that form rock pools and caves. Seven beachfront acres of The Baths National Park features a collection of such sights, which is ideal for swimming and snorkeling.
Day Sailing to Norman Island: Hop on a boat and visit "The Caves," a spot which inspired the caves from the book Treasure Island. Following a lunch on the boat is snorkeling at "The Indians," a picturesque rock outcropping that boasts underwater canyons and exciting marine life. Other day sail options are available, including one to Jost Van Dyke or a day sail to a surprise destination.
Touring Three Island Destinations: Take an all-day power boat excursion to Salt Island, Cooper Island and Peter Island. At the tour's first stop, guests can snorkel "The Wreck of the Rhone" at Salt Island, a shipwreck that sank in 1867. After arriving at second destination Cooper Island, guests can snorkel and explore Manchioneel Bay before heading ashore for lunch. Cooper Island has a micro-brewery, rum bar, ice cream parlor and gift shop for guests to visit too. Last tour destination is Peter Island, which includes Deadman's Bay, one of the most stunning beaches in the British Virgin Islands. Wind down with a walk or sunbathing session on the powder-white sands of Deadman's Bay before cruising back to the dock as the sun sets.
If you need more information or bespoke activities for the whole family get in touch with us.